November 17th 2017
FOR IMMEDIATE RELEASE
PAWARUMI gets updated! New level and Linux support!
Bordeaux, FRANCE
With a few weeks into early access, Pawarumi get its first update, on Monday 17th, with a lot of tweaks asked by the community and Linux support! Also, the last level of the game is now playable!
Steam page : https://store.steampowered.com/app/610410/PAWARUMI/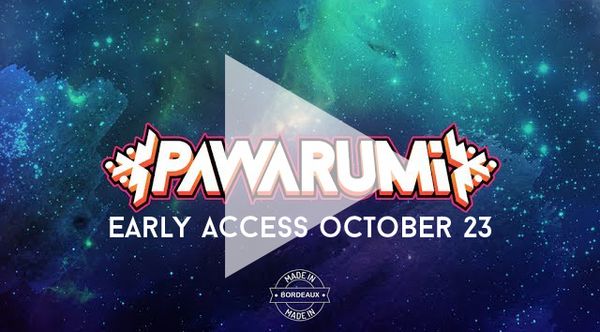 A Shoot'em Up for everyone
If you are not following the Shoot'em Up news, you might have missed the game PAWARUMI coming out in Early Access. Pawarumi is a modern take on the genre of Shoot'em Ups. Although the game is a pure shoot'em up experience it is not a Bullet Hell.
This shoot'em up also delivers a challenge fair to all players, thanks to a flexible game mechanic and several difficulty modes, finally opening a genre that was secluded to a niche for too long.
Spaaaaaaaaaaaaaaaaaaaace!
The last level of the game will be finally available to the world next week. This last level has proven to be tougher to create than we first thought it would be. This is mainly because it ended up being a lot more fun and original than what we had planned at first!
Every level in Pawarumi as his original elements that twist the genre in several ways. But this last level twists Pawarumi itself! The way we use the camera and the game mechanics is totally original and quite different from the rest of the game. The reason why we chose to do so will totally make sense in an upcoming update where we'll finally reveal the story.
In the meantime, just have fun with it! We've been are hard at work on it to make it worthy of your training on the first four levels.
Linux gamers! We promised, we deliver!
From the beginning of the development of Pawarumi, releasing the game for Linux was on the schedule. Even with its growing community of players, Linux gamers are still often forgotten by the game industry. This is something we couldn't let happen as we have Linux users in the team at Manufacture 43! More and more developers should port their games to Linux. With support from the big actors of the industry - mainly Unreal, Unity and Valve - it became very easy to port games to the platform, as we could verify with Unity on Pawarumi.
That's not all folks
Being in early access mean that we listen to your feedback… In fact, saying that we read them will be more accurate. Whether it's on the Steam forums, our Discord server or other dedicated forums we thank you for all your valuable feedbacks. They help us make the game better for everyone. Among the things we tweaked, bullet visibility was improved, better sound feedbacks have been added to support the game mechanics and user experience overall has been tweaked to be more satisfying.
About Pawarumi
The core gameplay is developed around a principle called the Trinity Mechanic. With a clever new use of the good old Rock-Paper-Scissors, this mechanic allows the player to recharge its shield, charge up a Super Attack or increase its damage at any given time. This mechanic gives a new lease of life to the genre! With a deep game system, that offers unlimited strategic opportunities, and shiny graphics blending pre-columbian inspiration with 90s pop culture aesthetics, PAWARUMI is a true tribute to the Dreamcast age of top down shooters.
About Manufacture 43
Manufacture 43 is an independent game studio based in Bordeaux, France, home to several well known game developers, such as Asobo Studio and Motion Twin. The three founding members, Alexandre, Charles & Daniel, two graphic artists and a programmer, have worked the past 8 years in the videogame industry before starting their own adventure. They sweat blood to offer the players original creations with sleek graphics and mechanics that capitalize on the legacy of the classics.
Follow them on Facebook and Twitter to get to know more about Pawarumi. You can also join their Discord Server, to have a chat with them!
Contact
Alexandre Lutz
Website: manufacture43.com
Press Kit: press.manufacture43.com
Email: info@manufacture43.com
Steam page: https://store.steampowered.com/app/610410/PAWARUMI/
Téléphone: +33 (0) 6 75 26 15 65